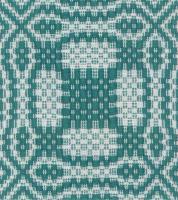 Calendar of Events
January 7th NPSWG Program Meeting at Christ Church 10:00a.m.to-2:00p.m.
January 18th NPSWG Tuesday Spinning at Christ Church 10:00a.m.to 2:00p.m.
February 21st NPSWG Tuesday Spinning at Christ Church 10:00a.m.to 2:00p.m.
February 4th NPSWG Business/Program Meeting at "At the Bank" 10:00a.m.to-2:00p.m
January Program

Sharon Reiland will show us how to make a sheep, similar to those in the picture, with old clothes pins and wool.

Everything will be provided but if you have a small quarter inch paint brush please bring it.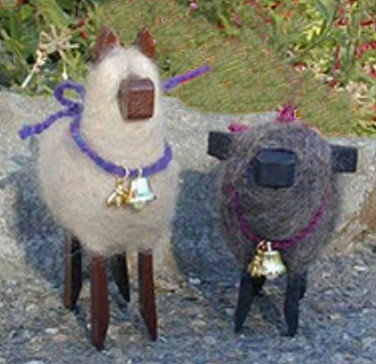 February Program
February is Taryn and I just spoke with her. The meeting will be in her shop at The Shops@the Bank.
---
Wishing you and yours a happy holiday and a healthy and prosperous New Year!!
I am looking forward to an exciting new year for our guild. Let's see what this year will bring! Are there places you would like to visit, instructors or workshops you would like to experience? The board and I are open to suggestions. Just let one of us know.

I have finally computed and submitted our volunteer hours to our archivist Karen Fry. Would you believe we have 1,625 hours just for Camp Stone alone? Please submit any volunteer hours you may have for the year to Karen as soon as possible, so that we can get a final total of hours for the year.


I want to take this opportunity to thank those of you have who have so graciously shared your knowledge and talents with all of us in this past year, and I am looking forward to experiencing what those of you who will be leading us through new projects this coming year will be bringing our way. If anyone is interested in exploring something new or has something you would like to share with the rest of us, I know our Program Chairs, Sindi and Elaine, would be thrilled to hear from you as well.
I also want to thank those of you who brought in refreshments for our meetings all year as well. You know we all appreciate you!

Don't forget to watch the Jan/Feb issue of Handwoven for mention of our Camp Stone adventure.


Look forward to seeing all of you in the New Year!!!

---
Minutes of the NPSWG
Minutes of the November 2011 NPSWG Meeting
Old Business:
Sharon Hoban called the meeting to order and the minutes from the October 2011 meeting were approved.

Sue Spencer gave the treasurer's report.

The checking account has $2591.69 after renewal of several magazine subscriptions, and the savings account has $7612.14, of which $1438 is designated as the Helen McCartney Scholarship Fund.

It was noted that annual dues are coming in now.

Sharon has been unable to meet with Yehuda Rothner about the second check from Camp Stone; however a meeting is planned for November 10.

The January/February issue of Handwoven is expected to have a blurb on our activities at Camp Stone.

The Programming Committee notes that there are programs scheduled through next June.
New Business: Thanks are extended to Jim Crytzer for an outstanding job on the Hub. The policies about equipment rental were discussed with a general consensus that equipment should only be rented for one or two months at a time. It was decided to check the bylaws, not available at today's meeting, before making any decisions on this.
Show and Tell: Sue Spencer discussed her time at the Eastern Great Lakes Fiber Conference where she took two classes: Felting Sculpted Buttons and Mud Cloth. In the felted buttons class she learned a finger work technique to create a fabric that is strong but also drapes well. The secret has to do with felting through the depth (vertical) layer first rather than focusing on the horizontal aspects of the cloth. The mud cloth class featured information and a projects on a dying technique used in Africa, primarily the country of Mali. The mud cloth class provided her the opportunity to participate in the opening of the fashion show as one of the "Dirty Dancers!" Both classes provided information that can lead to a presentation at a later meeting. Roz Macken showed a bag she rescued from a flea market and made 1 ½ inch wide card woven handles for in a black and two colors of green to coordinate with the bag. She also showed a sweater in progress being knitted out of a hand spun 2-ply Shetland wool done in true worsted technique. The sweater has a great deal of work in it between the hand spinning and the knitting at 300 stitches per round on size one needles. Karen Fry shared that she is learning more about entrelac knitting. Sindi shared that she did a presentation to her literary guild about our Camp Stone activities and was able to show them samples. She also let us know that there is a group here at the church who puts donated quilt blocks together for disaster relief groups, and anyone is welcome to donate. Cate Johns showed a sample loom that can hold tension for twining projects with a "cartoon" for making patterns. Mabel Cable showed a red and white coat she made from a rescued Norwegian style sweater. Judy Hanninen showed several knit hearts that can be used for dishrags, in pairs for a cute purse or felted and used for hot pads. She will also be presenting these to the Mercer guild next week when their program will be, "Simple Things You Can Whip Together for Christmas." Kay Duncan showed several mats she cut for a framing class as well as several felted wool angels and embellishments to use on pins or hatbands. Carol Voisin pointed out the flower she made as an embellishment for one of Sharon's felted hats, a clay bead necklace and a felted bag she made in two tones of orange. Marje Koehlert showed a lashing or basketwork technique used to make a primitive but functional comb. Bonnie Crytzer brought out the inkle loom strap that she started at Camp Stone from cotton dyed there. Sharon Hoban showed several hats, a two tone gray one ordered at the alpaca farm benefit, and several others that are going to The Bank: a purple and black one with Carol Voisin's flower and two striped hats with narrow black stripes setting off the brighter colors. Mary Stack showed a wavy scarf in progress.
Respectfully submitted,
Marje Koehlert, Secretary


Minutes of the December 2011 NPSWG Meeting
Old Business: Sue Spencer called the meeting to order and the business portions of the minutes from the November 2011 meeting were read and approved. Sue also gave the treasurer's report: the checking account remains at $2591.69 and the savings account has $13,672.14 with the addition of the check from the second session of Camp Stone. There is a possibility that Yehuda Rothner may request some level of participation in next year's activities – the theme is the first agricultural village in Israel – but he was unable to speak with Sharon to provide details.
New Business: Membership dues for 2012 are being collected now. The hostess list for 2012 was passed. We discussed that we will meet in January this year, with Sue doing a presentation from the material from the Eastern Great Lakes Fiber Conference. In February we will meet at @ the Bank. We received a letter from Laurie (Robbins) Schlitter, a past member who had moved out of the area. She sends greetings to everyone she knew and updated us that she is still spinning and weaving, with a particular focus on tapestry rugs.
Show and Tell:
Sue Spencer and Sindi Collard both showed "crazy colors" scarves they are working on.

Karen Fry showed a "Mystique" scarf done in Swedish lace and the large woven "Winter Colors" rug done on the Annie Albers loom.

Roz Macken updated us that one of Interweave's daily e-newsletters recently featured an article on spinning silk.

She also showed us a shawl she felted in pink and gray tones with blanket stitch edging and button sleeves.

Lauri Noll shared that she has gotten the hang of spinning and has been working on core spinning.

She had been looking forward to having her alpaca fiber evaluated by a particular judge and was recently able to do that.

Lauri also showed us a bird-friendly Christmas ornament she made from a large jingle bell with fiber stuffed partway inside for the birds to use for nesting in the spring.

Anita Hotchkiss showed us the woven and felted gift-card holder we will be making for our project today.

Donna Long showed a broomstick lace swatch she made in her efforts to learn the technique.

Mabel Cable brought a basket of yarns she spun this past summer, some of them dyed at our summer Dye Day.

She also passed around photos from the spinning demonstration at the Crawford County Fair.

Marje Koehlert showed a weaving sampler from her first attempt to use a four-harness loom.

Bonnie Crytzer displayed dozens of yarns showing the array of colors made from natural dyes at Camp Stone.
Respectfully submitted,
Marje Koehlert, Secretary
---
Show and Tell Pictures
November, "The Happy Meeting"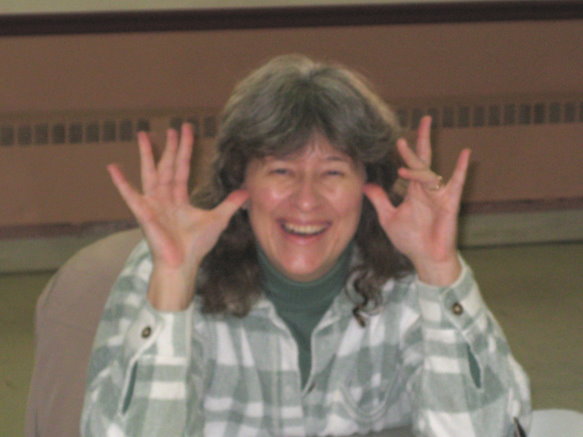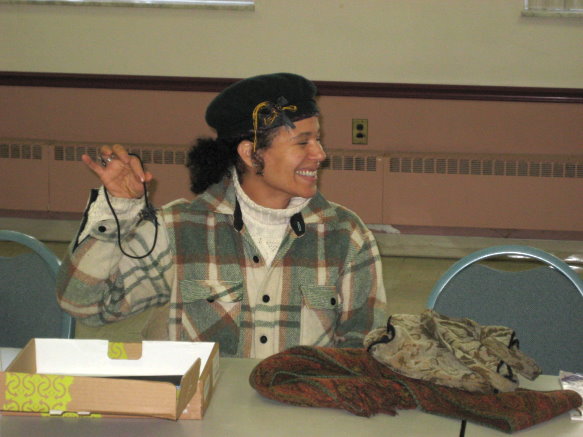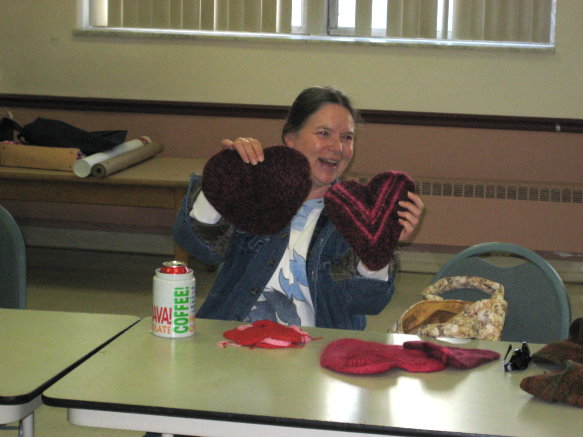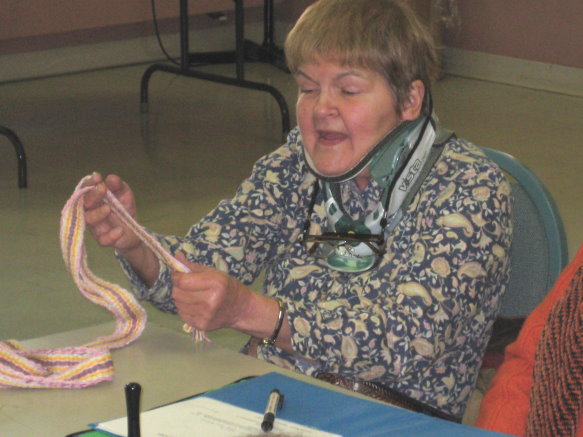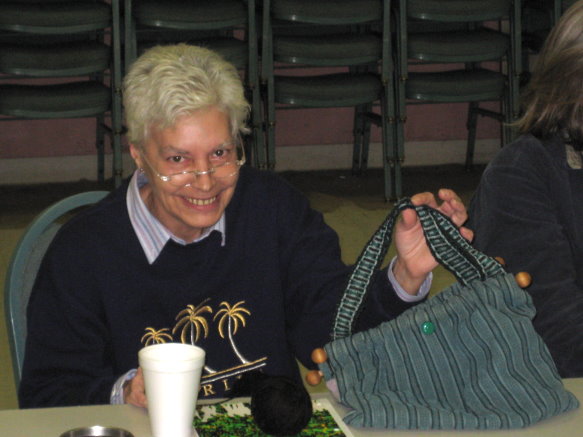 ---
"December Meeting"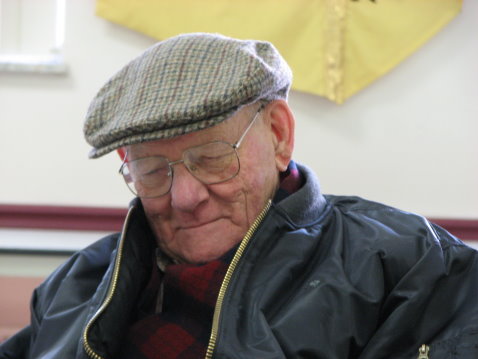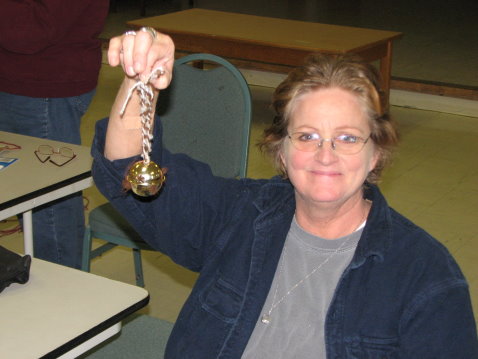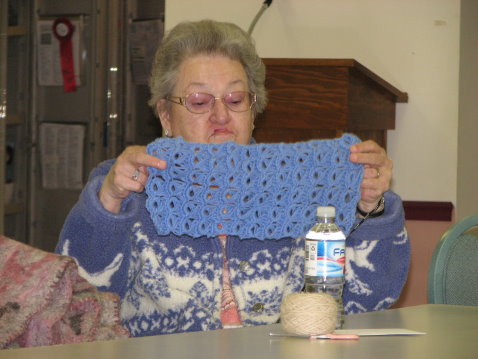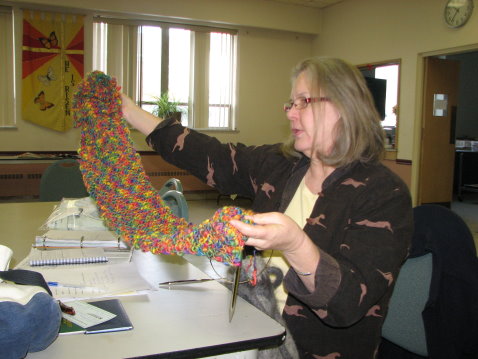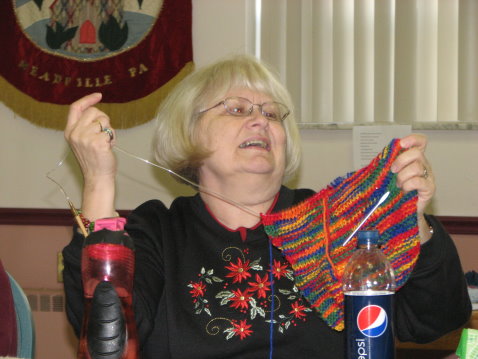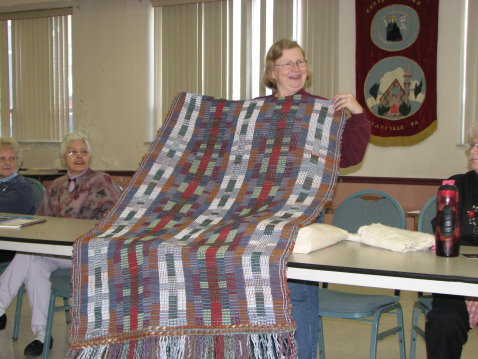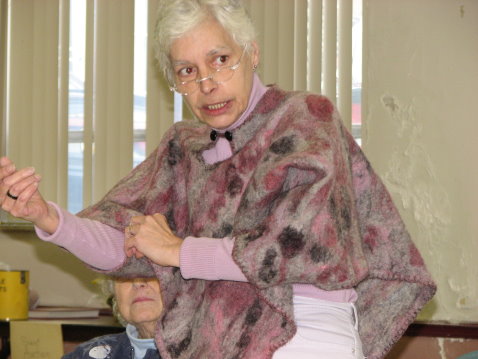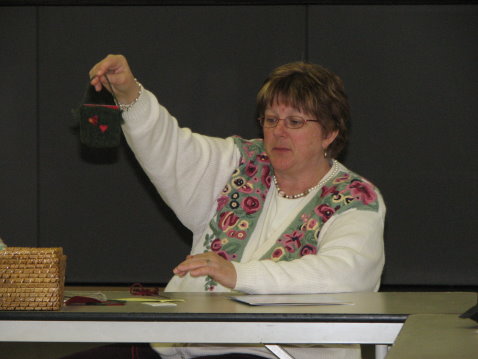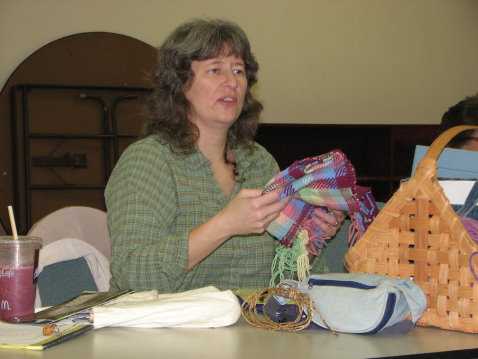 ---

GUILD EQUIPMENT AVAILABLE:
The guild now owns a good set of spinning and weaving equipment which is available for rent by guild members.

Included are a Baby Wolf 8-H loom; two 18 inch Leclerc Dorothy 4 shaft table looms; a rigid heddle loom; an Inkle Loom; a 6 foot triangular loom; an Ashford traditional spinning wheel; a drum carder; a wool picker; English wool combs and Russian paddle combs.

The guild Fleece-to-Shawl team has first priority on the Baby Wolf loom, but will not hold it unnecessarily (all monies generated by the team goes to the guild treasury to help with guild expenses).

Contact Marje Koehlert for rental information.
The deadline for submissions to be included in the next Hub is 25 February 2012