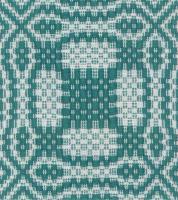 Calendar of Events
November 5th NPSWG Program Meeting at Christ Church 10:00a.m.to-2:00p.m.
November 15th NPSWG Tuesday Spinning at Christ Church 10:00a.m.to 2:00p.m.
December 3rd NPSWG Business/Program Meeting at Christ Church 10:00a.m.to-2:00p.m
December 20th NPSWG Tuesday Spinning at Christ Church 10:00a.m.to 2:00p.m.
November Program
A SEARCH FOR KNITTED LACE PATTERNS by Mable Cable
The very first instructions written for knitting began in England with the simple patterns of 1837 and developed into very advanced patterns by the end of the century. A number of stalwart women authors are credited with this advancement in Victorian England. Once their books were published the popularity of needlework grew fast. Examples of lace knitting done with handspun yarn will be used to illustrate the development of this art. The scarves and shawls that will be shown are from patterns that were published in a book by Jane Sowerby entitled "Victorian Lace Today".
You need not be a knitter to enjoy this program. It is designed to appeal to both knitters and non-knitters. At the close of the talk a simple method will be shown that could be used to design one's own lace patterns.
Hosting are Sharon Hoban and Nickees "Kay" Duncan
---
December Program
Anita Hotchkiss and Christmas Party We will be having our annual Christmas Party. Bring a food dish to share. If you wish to take part in a gift exchange, bring a wrapped gift valued around $10.00. Our Raffle would be a good place to part with an item you don't know what to do with. Program ideas are still up in the air so we'll all be surprised.
---
Words from the President
I want to humbly thank you all for the wonderful awards I was honored with at the October meeting. As all of you who helped out at Camp Stone know, without all of you we could not have accomplished this. Your time, dedication, and belief in making it all work are to be commended, and it was definitely a group effort. It is my firm belief that you all deserve an award.
I think it was a wonderful experience for all of us and I hope that everyone in the guild will enjoy and treasure what this has brought to our guild in terms of exposure and recognition, as well as the equipment for which we have the use for the next 3-4 years. Sue shared some of our experiences at EGLFC, so more and more will know what we have accomplished. You should be very proud! I'm proud of you all.
It looks like our Program Chairs Sindi and Elaine have been busy with upcoming programs, and it looks like many of our own members have stepped forward to share some of their wealth of knowledge with us. Many thanks to all of you who are willing to do that as well, including all of you who have shared with us in the past. You all are to be praised and commended. That's what makes this guild so special! I am looking forward to seeing what Sue is bringing back to us to impart what she has learned from one of the workshops she took.
---
Minutes of the NPSWG Meeting
Minutes of the September 2011 NPSWG Meeting
Old Business: Sharon Hoban called the meeting to order and the minutes from the August 2011 meeting were passed. Sue Spencer updated us on recent treasury activity: the rent for the next year has been paid to the church, a scholarship has been deducted from the Helen McCartney fund, and we made $56 on the Dye Day raffle. The checking account stands at approximately $971.44, and the second check from Camp Stone should arrive shortly to be added to the savings account. A big thank you was extended to Jim Crytzer for his outstanding work on the Hub, and another thank you was extended to Sue for hosting a successful Dye Day for 45 people from several guilds. A final thank you was extended to all who participated in Camp Stone activities. We were able to teach over 700 students and made $12,000 for the guild. We discussed using some of the money to send the "every day" volunteers to workshops of their choice and to purchase a new guild loom and possibly a bench. A tee-shirt commemorating our time in "The Village" was passed for all to see. For now, Sharon will be keeping track of those who have Camp Stone equipment. If you have Inklettes or any of the other equipment, please let her know. Sharon would also like to keep track of the number of volunteer hours members spend on related activities; please keep her updated. Elaine Fertig passed a printout of the programs scheduled for guild meetings through July of 2012.
New Business: Karen Fry and Sindi Collard have three spare parking passes for those who want to participate in the Erie Heritage Days event on September 10. Next month is National Spinning and Weaving Month, and we intend to submit something to some of the local newspapers and to Handwoven. Sue is donating the book "Weaving as an Art Form" by Theo Moorman and three DVDs: "The Gentle Art of Plying" and "A Spinner's Toolbox" by Judith MacKenzie, and "Warping Your Loom" by Madelyn Van Der Hoogt to the guild library. Elaine Fertig passed along two thank you cards from the fair for our spinning demonstration and for displaying "quality handwork." Ten spinners demonstrated there this year. It was noted that there were two fleeces entered that were of hand spinning quality – a big improvement over previous years. Nevertheless it was moved, seconded and passed that we continue do the fair next year, but that we not judge the wool. New members Cate Johns and Nickees "Kay" Duncan were introduced. Guild membership now stands at 48.
Show and Tell: Cate Johns showed a large rug twining project she has been working on using Talon tape for warp and a weft of fabric strips primarily in red with white and blue accents. The rug is thick and sturdy, and should end up being about 42" by 54". Barb Lodge showed two skeins spun from wool she dyed on dye day and later over-dyed. The dye was more reactive on some parts of the fiber than others, giving a comfortable heathered look. Karen passed around a jar she made at the glass-blowing area at Camp Stone, as well as a hooded sweatshirt tie-dyed with indigo. Elaine showed the sweater, striped with white and two colors of blue, that took the Hand Spun award at the fair this year. Marje Koehlert showed several pieces of fabric dyed on dye day. Sharon told us about the fabric spun and woven at Camp Stone to make one or several Torah covers, the 18 foot long woven band for binding, and the "Camp Stone 2011" name draft with cross-stitched lettering added afterward. Sue shared that the Allegheny Art Exhibit is going on today until 6 p.m. Sharon showed two felted cloche hats, one in lavender with a darker diagonal stripe around the band area, and a dark raspberry colored hat with an even darker checkerboard pattern. Jennifer Phillips showed a large entrelac nursing shawl, adapted from a Debbie Bliss pattern, in shades of blue, white, tan and brown.
Respectfully submitted,
Marje Koehlert, Secretary
Minutes of the October 2011 NPSWG Meeting
Old Business: Sharon Hoban called the meeting to order and the minutes from the September 2011 meeting were read and approved with the correction that guild membership now stands at 50. The treasurer's report was not available. It was noted that the second check from Camp Stone has not yet arrived. Karen Fry has volunteered to be our archivist and will also keep track of volunteer hours done for the guild. This is National Spinning and Weaving Month. An article from the Titusville Herald featuring our activities at Camp Stone was passed around the room. The Meadville Tribune may have printed a similar article, but no one present at the meeting has seen it. The Erie Times turned it down, considering it a "past event."
New Business: Sharon Hoban updated us that the benefit for Alpaca breeder Greg Carone, who suffers from pancreatic cancer, was very well attended. There were a large number of prizes for chinese and silent auctions, and we were not charged a fee for vending items. Many of the attendees were unfamiliar with fiber arts and were very impressed to see yarn being spun from the alpaca fiber. Sue Veverka moved and Karen Fry seconded that we donate $50 to pancreatic cancer research. The motion carried. Sharon proposed that, while we have Camp Stone money, those who drive to events to volunteer be reimbursed for their mileage. It was noted that some people attend a large number of events, and others have been prevented from going to events because of distance. Sue Veverka moved accordingly, Carol Voisin seconded, and the motion carried. Bonnie Crytzer updated us that Ruth Walker Daniels would appreciate calls or visits, and Donna Long's husband has become bedridden. Jennifer Phillips is looking for a used Louet wheel for one of the people who learned to spin at the Albion Fair. We were updated that the Camp Stone Louets are available for guild members to use. Currently three of the Camp Stone looms and two boxes of inklettes are being used educationally in Warren schools. Janet Smouse let us know she has acquired a great wheel, and it is available for $200 to someone with a large room.
Show and Tell: Cate Johns was able to show us her finished twined rug, which weighs approximately 5 pounds. Making a twined rug requires a sturdy frame proportionate to the size of the finished rug, strong twine, webbing or fabric strips approximately every half inch for warp, and 1 ½" to 2" wide fabric strips for weft. Directions will be printed in an upcoming newsletter. Libby Culbertson used her iPad to show several of her recent weavings – a polychrome summer and winter pattern that she will use for a bag, a summer and winter trees pattern to be used for a coverlet, and a shadow weave pattern to be used for lunch bags. Sue Veverka told us about a yellow and brown dyed yarn she did recently that was not pretty itself but that became a beautiful weft. Bonnie Crytzer updated us that her surgery was successful in allowing her to sit up straight – hopefully that will lead to many happy projects to come! Carol Voisin showed a felted purse with a crocheted ruffle done in quick shrinking Hobby Lobby wool. Karen Fry showed a large "Spring Colors" rug she finished on the Annie Albers loom at Sigrid's. It has many colors of carpet warp, woven to show throughout the piece, and a bulky hand-dyed variegated weft. Barb Lodge recommended a DVD featuring Peter Collingwood. Sharon showed a classic black cloche hat and a red hat with a black rim ordered at the Greenville event. The red and black hat was ordered by a Meadville Bulldogs fan to wear to games. Marje Koehlert showed a "yarn" of twisted spider plant leaves. Jennifer Phillips showed a skein of the yarn she is spinning by drafting four Kool-Aid dyed colors together and then plying them. We dubbed the color "Shechem," in honor of ice cream and frozen fruit treats at Camp Stone. Jennifer also showed a tweedy ball of chocolate colored yarn spun with a little white alpaca. Sindi Collard showed a teal and purple knitted scarf in progress accented by silver stripes made by using four shades of gray.

Respectfully submitted,
Marje Koehlert, Secretary
---
Sharon was presented the "Annual Guild Award" for outstanding achievement.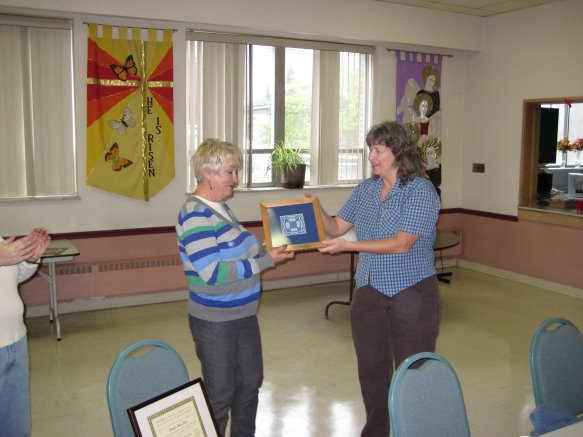 Show and Tell Pictures from the October Meeting
Sharon Hoban Cate Johns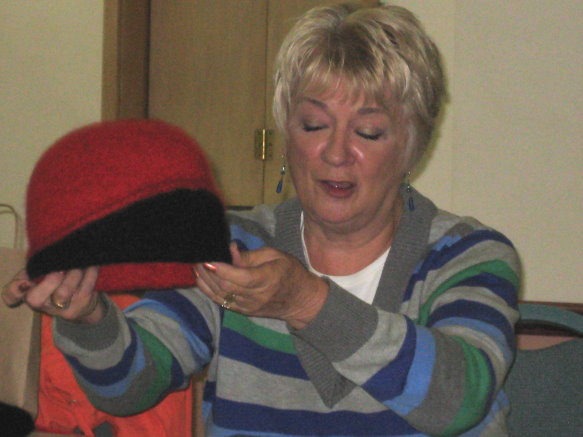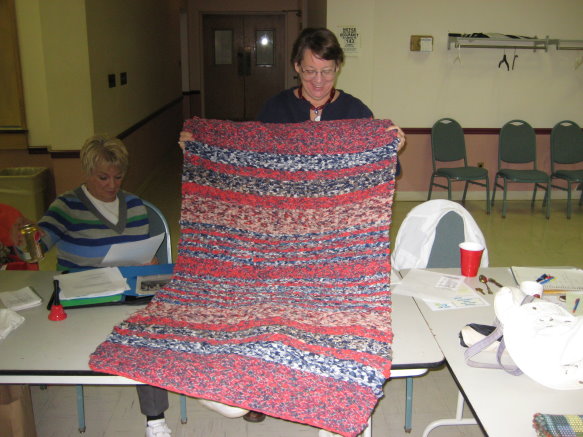 Sindi Collard holding her undulating wiggly Karen Fry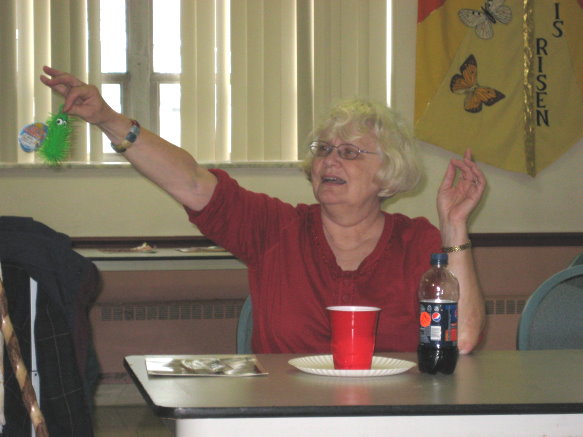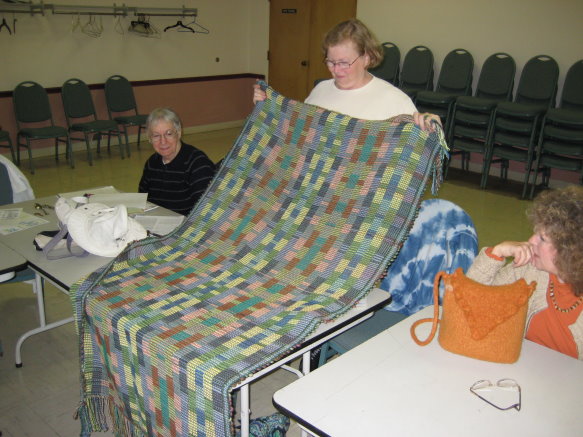 Marje Koehlert
Carol Voisin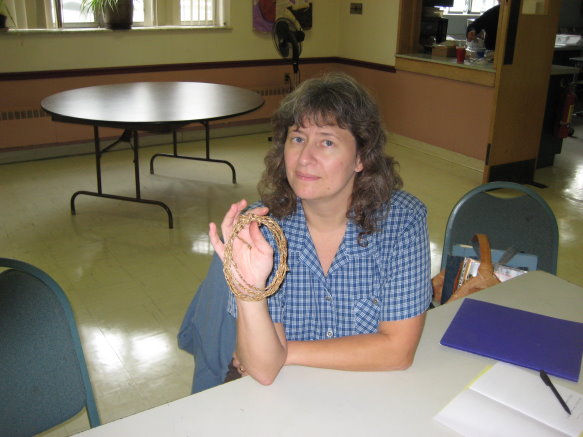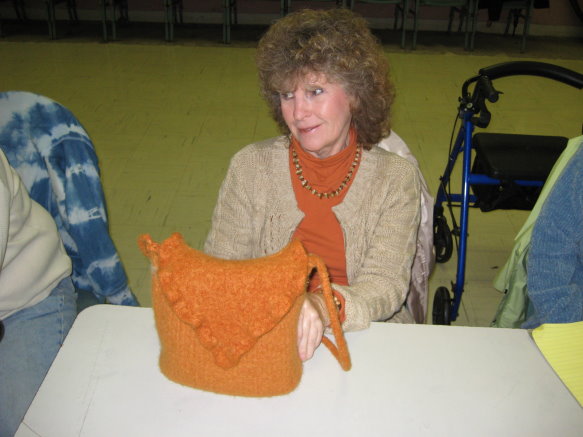 Jennifer Philips Libby Culbertson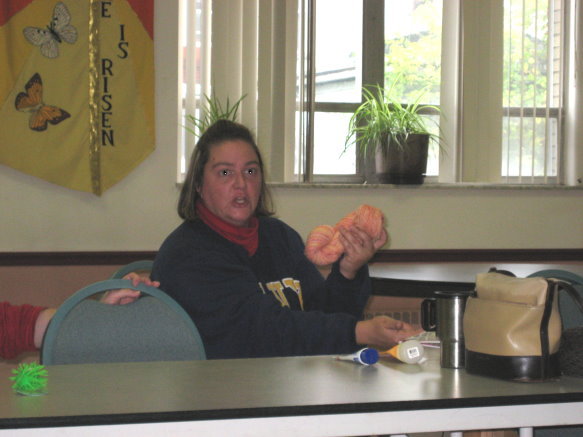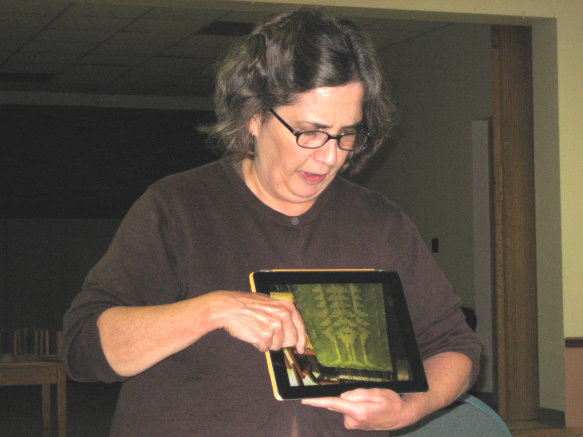 Sindi Collard
---
Final Note
'Tis the time of year to remind everyone dues are due. The yearly dues are $20.00. Paid by March. Please make your checks payable to the NPSWG and send to the Membership Coordinator. Thank you.
From all of us to all of you our warmest wishes for a safe and happy holiday season. Merry Christmas, Happy Chanukah, and a Healthy, Prosperous New Years. See you at the Christmas Party. The Hub Staff

---
GUILD EQUIPMENT AVAILABLE: The guild now owns a good set of spinning and weaving equipment which is available for rent by guild members. Included are a Baby Wolf 8-H loom; two 18 inch Leclerc Dorothy 4 shaft table looms; a rigid heddle loom; an Inkle Loom; an Ashford traditional spinning wheel; a drum carder; a wool picker; English wool combs and Russian paddle combs. The guild Fleece-to-Shawl team has first priority on the Baby Wolf loom, but will not hold it unnecessarily (all monies generated by the team goes to the guild treasury to help with guild expenses). Contact Marje Koehlert for rental information.
The deadline for submissions to be included in the next Hub is 25 December 2011