| | |
| --- | --- |
| "The HUB" | Vol. XXIX, No.2 |
| Bimonthly newsletter of | March - April 2008 |
THE NORTHWEST PENNSYLVANIA SPINNERS AND WEAVERS GUILD
Saturday, April 5, 2008, from 10:00 a.m. to 2 p.m.
Christ Episcopal Church, Diamond Park, Meadville, PA
March Program
Leather crafting class.
We will all make a leather thimble/finger guard plus one of the following choices.
1. Make a small leather drawstring bag and never lose your marbles again! Also good for change, ammunition, gold dust, etc. Size 3.5" x 5 ". Cost $5.00.
02. Make a medium leather drawstring bag. Size 8.5"x 3.5"-good for sewing kit, scissors, etc. Cost $10.00.
Glover's needles and thread will be provided. If you are not finished and need to take a Glover's needle home the cost will be $1.25
Bring scissors and straight pins.
Liza
Hosting will be Jennifer Phillips and Roz Macken
April Program
Billy Bookamer will do a mini workshop on her scholarship programs. She attended Ann Field's Spinning Wool: Beyond the Basics and Spinning Other Fibers. Bring your wheel or drop spindle and some fiber.
Hosting will be Kathy Beck and Ilene Elliston
Calendar of Events
March 1st - NPSWG Program Meeting at Christ Church 10:00a.m.to-2:00p.m
March 18th - NPSWG Tuesday Spinning at Christ Church 10:00a.m.to 2:00p.m.
April 5th - NPSWG Business/Program Meeting at Christ Church 10:00a.m.to-2:00p.m
April 15th - NPSWG Tuesday Spinning at Christ Church 10:00a.m.to 2:00p.m.
Chris's Show and Tell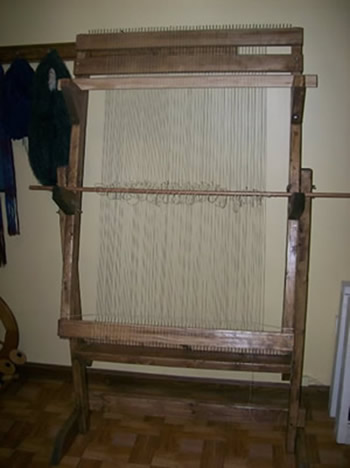 This is a tapestry loom I made for $35. I used "Ashfords Tapestry Loom "as a guide. For those interested go to www.ashford.com.nz and Ashford has a 9 page instruction leaflet you can print out with pictures for putting together their loom. It's easy to figure out. The only thing I did different was shorten the leash strings attached to the leash rod so all the back threads pull out at the same time and I am free to weave with both hands.
"Atta Girl" Chris. Thanks for sending this to the Hub.
Minutes of the February 2008 NPSWG Meeting
In the absence of President Joanna McDermot, Treasurer Bonnie Crytzer chaired the meeting. She informed us that Joanna's husband Dick has suffered a stroke – he is home but needs regular care. Members were invited to sign a card for the McDermots.
Old Business. Bonnie gave the Treasurer's Report: operating funds, $2664.95; Helen McCartney Scholarship Fund, $1513.90. Dues are due for 2008 ($20 per family). Pay dues by March to be on the annual membership list. Bonnie reminded everyone to add their skills and/or wares to the resource list, which will be included with the membership list. The minutes of the December meeting were approved. Bonnie reported that Vicki Ferster is in Kansas but had provided information on the programming for upcoming meetings. Vicki can also get volume discounts at the Yarn Barn – ler her know if you want something and she will try to combine orders to get the discount.
The possible slate of officers for our upcoming election was discussed. Ann Sheffield has agreed to serve another term as Secretary, and Roz Macken is willing to continue as Librarian. Bonnie Crytzer would like to step down as Treasurer; Bonnie Orr agreed to take this on (thank you Bonnie!). Joanna McDermot would like to step down from the Presidency but is willing to stay in office if necessary. Anita Hotchkiss has resigned as co-Vice President, but Vicki continues in office, and Bonnie Crytzer has agreed to help her. Candidates for the next Vice-President(s)/Program Chair(s) are still needed, however.
Linda Durning is organizing a trip to the Maryland Sheep and Wool Feztival and will need to know how many people are going by April. Members were reminded that the Challenge Project should be completed by August. Karen Fry noted that she needs more yarn; it was clarified that Challenge participants can use their own yarn in addition to that supplied. Karen also noted that she has a guild shawl that needs to be repaired. Barb Lodge urged people to sign up to bring cookies to meetings!
Dates for upcoming events were announced. The Maryland festival is May 2-4 (our trip will be on Saturday May 3rd). The Edinboro Highland Games will be May 17, 9-5. Waterford Heritage Days will be July 19. Waterford's Family Field Day will be September 27. Members were reminded that you don't have to be "good" at a craft to demonstrate! Barb Lodge reported that we have been invited to demonstrate at a Civil War Reenactment in McKean on August 16-17. We would be paid $100. We voted to demonstrate on Saturday (the 16th) only; Karen Fry will weave. We decided against participating in Jamestown's Celtic Festival – it is too far away, and our calendar is already fairly busy. Ann asked about the Baldwin-Reynolds house demonstration. Roz said that we have received no information about it, and the museum is presently closed.
New Business. Roz announced that she has donated Anne Einset Vickrey's The Art of Felting to the Guild library. Other new books are The Natural Knitter by Barbara Albright and Handwoven's Design Collection 9. No Sew Garments. Sue Spencer used her professional discount to buy a copy of The Knit Stitch as approved at the last Guild meeting. Roz also noted that the library's holdings have been updated on the Guild web site. Sue recommended the book Teach Yourself Visually: Handspinning as an excellent introduction to the craft.
Sue brought several Guild rental agreements so they will be available during the Tuesday spin, which Sue cannot always attend. Karen Fry, Keeper of the Loom, also took a couple of agreements; Sue is responsible for the rest of the Guild equipment.
Judy Hanninen passed along greetings from Sigrid, who noted that prices go up 3% on Feb. 14. Guild members receive discounts on all items except reeds and books. Judy also announced that the Mercer County Spinners & Weavers are moving from the their long-time meeting place to Munnel Run Farm, a "non-profit agriculture and ecology education center" (www.munnellrunfarm.org). Nancy Griffin is doing a blog on the Mercer Guild; the Otter Creek shop is closed but Nancy still sells out of her home. The Mercer Guild is taking a van to the Pittsburgh Knit & Crochet Festival on Feb. 9; Kindred Spirits will have a booth there.
More information is now available about "Women's Fiber Fest" at the Alliance YWCA on March 15, 10-4. The entry fee is $3 for the market and demonstrations only. A box lunch is $6, and $20 covers admission, a workshop, and a box lunch. Further information: http://allianceywca.org .
Sue Spencer described the Hot Sox Spot sock design competition, which is being sponsored by several major manufacturers of sock yarn. Sponsors' yarns must be used in the designs, but the prizes are substantial, and the winning designs will be published. Sue will have more details later. She also confirmed that yes, the August meeting will again be a picnic at The Woods!
Taryn Barnett reported the sad news that the designer who maintained the "Socktober" Web site has died.
Sharon Hoban asked about Interweave magazine discount forms; Roz found some.
Sue introduced Cheryl Anderson, a new spinner and guest.
Show and Tell. Ann had knit a pair of wrist warmers. Jen Phillips had blended some of Bonnie Orr's fleece with merino to get a softer yarn. Sue drew attention to her friend Cheryl's hat, made with camel down. Taryn had made some purple fingerless mitts and a pair of "Monkey" socks designed by Cookie A; the pattern is available on-line. Judy has been weaving scarves and had made a mohair vest/shrug. Donna Long brought a bunch of squares she had made while learning to use her weave-it; Barb suggested crocheting them together to make a scarf.
Respectfully submitted,
Ann Sheffield, Secretary
2008 Dues
Here is the list of people who have paid dues for 2008. If your name does not appear here and you wish to have your name included in the NPSWG membership directory for 2008 send your dues to the Susan Fenton before April 25th
Nancy Allio; Cheryl Anderson; Nancy Austin; Cyndi Bailey; Taryn Barnett; Kathy Beck; Billie Bookamer; Cindy Boylan; Mabel Cable; Bonnie Crytzer; Lorraine Dallas; Sally Demmler; Mary Donaldson; Linda Durnye; Ilene Elliston; Susan Fenton; Elaine Fertig; Karen and Laura Fry; Cheryl Geist-Brozell; Eve Hanlon; Judy Hanninen; Sharon Hoban; Barbara Lodge; Donna Long; Mary Love; Roz Macken; Chris McCormick; Joanna McDermot; Mathilda Murphy; Mary Musser; Carol Myers; Bonnie Orr; Jennifer Phillips; Andrea Wyman; Linda Gross; Sigrid Piroch; Sharon Reiland; Ann Sheffield; Janet Smouse; Mary Stack; Judi Van Guilder; Margaret Weaver;
This is a note to the person who gave the Treasurer, Bonnie C, two ten dollar bills at the February meeting. I assume this was 2008 dues money and I need your name and contact information so you can be included in the above list.
Classified Section
For Sale: Rare Breed Cotswold Roving Strong, long, lustrous. Dyes beautifully. Spinning count from 36s to 44s. $20/lb + shipping. Ginette Rostedt, brostedtdsl@lek.net Pelts also available. Email for photos.
From: Ajay Revels ajay@politemachines.com
While vacationing in November I rented the very charming log cabin in the northern part of New Mexico near Abiquiu. The area is apparently well known due to the paintings of Georgia O'Keefe, but I what surprised me was that the cabin I had rented was actually owned by a family with a long history of traditional Rio Grande weaving. For several reasons - one being the lack of a computer - the Valdez family has not reached out to the weaving community to share their expertise in natural plant dyes, nor have they really marketed their weavings, which are incredibly rich in color and design. This cabin seems perfect for someone interested in natural dyes, hand spinning and hand weaving because you'd be able to discuss weaving with the hosts and spend time in the Valdez workshop on the looms. Simply as a favor to the family (they have no computer)I am contacting weavers who might be interested in a vacation rental that is oriented around fiber arts. The property manager can discuss details, but I know the cabin is open year-round and can accommodate 2 comfortably and 4 in a pinch.
http://www.abiquiuvacationhomes.com/canonescabin.html

Weavers Dream.
Everything you could want or need to produce a wide variety of projects whether it be blankets, rugs, or fine linen cloth. This beautiful maple 48" Macomber Loom with 8 harnesses includes a 12 harness frame, 3 stainless steel reeds (8, 10, and 12 dent), tensioner and thread guide, large eye stainless heddles, aprons, friction brake, raddle, warp separators, beater handle, matching 40" adjustable bench, lovely sheep skin bench cover, warping frame, books and extra supplies. Beautiful New Condition $3,600. Contact Barbara A Polito at maplewoodfarms@verizon.net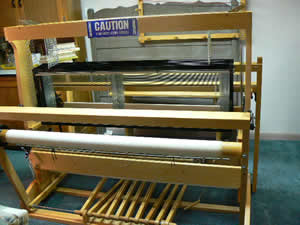 Chris McCormick is in need of warp for weaving her blankets.
Each blanket takes 1,800 yards of earthy colored fiber and I am out of mill ends. Would anyone be willing to sell some of their stash or let me know where I can get some? Thanks mikeandchris@windstream.net

A new breed. The "Bovine Ovine."
Jason Collingwood Workshops - Two Opportunities
The New York Guild of Handweavers presents JASON COLLINGWOOD: 2/2 TWILL WORKSHOP
Saturday & Sunday, April 12 & 13, 2008, 9 am - 5 pm
$160 members/$175 nonmembers
British rugweaver Jason Collingwood (www.rugweaver.co.uk) will cover straight twill, broken twill and twill on opposites. Many two and three color sequences will be explored, each giving their own unique design. Crossed wefts (parallel and contrary motion) and clasped wefts further increase the design possibilities. Pick-up and 3/1 double-faced twill will be explored. Try out shaft switching, learning how to adapt your own loom.
Bring your loom, warped according to provided instructions. Minimum loom requirement: 4 shafts, 12" weaving width. For more information, including supply list and warping instructions, email programs@nyhandweavers.org
We expect that the workshop will be held at the School of Visual Arts, 214 East 21st Street, New York City. However, we haven't yet received confirmation from SVA for our spring dates. The site could change to another SVA building; all are in the vicinity of 23rd Street. To learn more about NYGH, www.nyhandweavers.org.
The Weavers' Guild of Buffalo is hosting Jason Collingwood April 17-19, 2008. He will be doing a lecture on the evening of the 17th "Growing up with Peter collingwood" and a three day workshop "Plain Weave - An Introduction to Rug Weaving". The cost of the workshsop is $175.
We still have a few spaces left and if you are interested--we will try to provide local lodging if you are traveling from a distance. The following is a description of the workshop:
"An ideal course for those wishing to try out rug weaving for the first time, though with enough "tricks" and tips to also suit the experienced weaver. Students will learn how to make a strong serviceable rug (plain weave being an excellent structure for rugs). Initially weaving stripes and spots using two colors, learning how to overcome the selvage problems inherent in each design. Clasped wefts, crossed wefts and compensated inlay will be covered, all these new techniques giving the weaver more freedom with design. The workshop will include instruction on how to set up one's loom correctly for rug weaving. Twining at the beginning and end of the rug, darning in of loose ends, use of the temple and many other invaluable tips for successful rug weaving. This class will conclude with a look at rug finishes, a few of the many finishes will be demonstrated.

This workshop requires students to come with their looms pre- warped (instructions will be sent out prior to class). Any four- harness loom is fine, including table looms."
If anyone has an interest in attending, contact Suanne Pasquarella at nyhgarep@yahoo.com for further information and a registration form.