| | |
| --- | --- |
| "The HUB" | Vol. XXVI, No.6 |
| Bimonthly newsletter of | November - December 2005 |
THE NORTHWEST PENNSYLVANIA SPINNERS AND WEAVERS GUILD
Saturday, December 3, 2005, from 10:00 a.m. to 2 pm
Christ Episcopal Church, Diamond Park, Meadville, PA
November Program
There will be no meeting held the first Saturday in November.
December Program
Please join us on December 3rd for a Guild Christmas Party beginning at 10:00 a.m. at the church. We ask that everyone who is attending bring an item for the Chinese auction table. Have it be a Christmas item or related to spinning and weaving. There will be a soup and dessert luncheon provided. We will be making wool angels with the kits being provided. There will be a sale table if you have items to sell.
Calendar of Events
November 15th - NWPSWG Tuesday Spinning at Christ Church 10:00a.m.to-2:00p.m.
December 3rd - NWPSWG Business/Program Meeting at Christ Church 10:00a.m.to 2:00p.m.Christmas Party
December 20th - NWPSWG Tuesday Spinning at Christ Church 10:00a.m. to 2:00p.m.
Minutes of the October Meeting
The treasury balance is $3263.79 including the scholarship monies.
Sue Spencer thanked members who supported the Sheep and Wool Day. We discussed ways to communicate to sheep breeders the needs of spinners.
The Albion Fair invited us to demonstrate.
Bonnie handed out National Spinning and Weaving posters. It was suggested that we put our web site on them before posting them.
Bonnie had a request for local dealers to be included in a listing in The Travel Guide for Knitters, Crocheters, Spinners and Weavers in PA.
A card was passed around for Sigrid and her husband who is in the hospital.
A thank you was received for our contribution to the Home Textile Tool Museum.
The December program will be our Christmas Party. There will be a sale table. Soup and dessert will be provided.
The Textile Arts Alliance will have their annual show Oct. 23, plus a fashion show and sale.
Ann will be going to Pittsburgh to see the Bog People exhibit on Nov. 11 and will take 3-4 others along.
Our October meeting was devoted to celebrating our 25th anniversary. $250.50 was collected (money that would have paid for our restaurant lunches, but instead will now go to the American Red Cross for Rita relief.
A plaque was presented to Sigrid in recognition of her founding of the guild 25 years ago, and of her continued support. Unfortunately, her husband was undergoing surgery at this time and she was unable to be with us to hear the presentation and the ovation (a copy to follow)
Each member spoke, remembering some guild experience or explaining what the guild membership has meant in her life. One overriding theme was the sharing of knowledge.
Between the centerpiece door prizes and the two tables filled with very attractive auction offerings and all the good memories and nice words spoken, it was a particularly memorable meeting.
The Nov. 11th meeting will be a visit to the Pittsburgh Museum of Natural History exhibit of the Bog People.
Scholarship Report
Members we asked to vote on the following changes to the policy. There were 18 members present.
1) Members can only apply every two years. Agree: 12, Disagree: 5, Need to discuss: 1
2) Currently we have a limit of three scholarships per year, each to award one/half of the workshop fee up to a total of $100, for a total cost to the fund of $300/year. Change the individual cap to $150 but keep the total cap at $300. Agree: 13, Disagree: 4, Need to discuss: 1
3) In the event that a program using the material learned is not practicable, a substitute program could be presented. Agree: 15, Disagree: 0, Need to discuss: 3
The Guild's Anniversary Gala
Our 25th Anniversary was very nice. I wish more of you could have been there. We had a Chinese auction with many fine items donated by the members, which piqued everyone's interest. The food consisted of your homemade sandwich and choice of 6 to 9 different pies and pastries, delicious. In appreciation of her years as an officer of the guild, Barb Lodge was presented a white shawl made by guild members. We changed plans in mid stream due to Mother Nature's hurricanes. With everyone's donations we were able to give to the American Red Cross $250.50. THANK YOU ALL
Sigrid's plaque was mailed to her with our thoughts and prayers. Below is the presentation:
Barb starts: I know that you all know Sigrid, and that she founded our guild, but I think I can still mention some things you may nor of thought of.
I first met Sigrid when I attended an exhibit of rug hooking at the library. I was on my lunch hour and didn't have a lot of time, so I just talked to a couple of ladies on the side of the room. I did mention to them that although I hoped someday to do some rug hooking, my main interest at the moment was handweaving. After I left, they mentioned this to Sigrid and Linda Bennett. Linda came running after me to invite me to attend an organizational meeting of people interested in handweaving.
Sigrid had already founded a small group of Meadville people who were meeting at the Meadville Salvation Army building for spinning. She found a place for a larger group to meet on the Edinboro campus. The dues would be $1 a year.
The first year or so Sigrid carried most of the burden of running the guild. Linda was treasurer. Sigrid was president, programmer, editor and printer. She set up group purchases of wool and dyestuff, and found the people to present programs. Sigrid had the vision, the focus, and the work ethic to make it happen. As she coaxed and encouraged others to take over some of these responsibilities, she had to overcome a prevailing opinion that being a doctor's wife she had plenty of time and money and shouldn't need any help.
In fact, one of the first things I noticed about Sigrid was how hard she worked. She did not waste a minute. Besides being a busy doctor's wife, she was also the mother of three active accomplished teenagers. If she was waiting out a music lesson, she was reading weaving books and doing drawdowns.
There are a couple of things in particular for which we thank Sigrid: first, her broad interests that laid the ground work for the many paths we follow in spinning, dyeing, weaving, and all the other related fiber arts. We have had programs on color study, basket making, rug weaving, and tapestry. We leaned to hand knit and machine knit our handspun yarn. We learned to photograph, market our works, how to embellish it and finish it. We have studied textiles from other countries, and from the dawn of time. We learned how to create textiles to wear, for the home, and for the church. We still found time for picnics, parties, dye days and field trips.
The second thing we want to thank her for is that she created such a strong organization at the very beginning , and the nurturing it so well. When she finally cut us loose , we continued to flourish.
It's been a great 25 years. Thank you Sigrid
Note from Barb Lodge
A very special "Thank You" to the guild, for the lovely lace shawl--handspun and handwoven. I have been intending for some years now to make myself a white summer shawl, but something always seems to get in the way. Thank you to everyone involved in creating it. When people ask if it is my work, I will be so pleased to say, "no, my friends made it for me." I am very grateful for my guild experiences. To be part of a group where everyone shares your interest is very satisfying. I have grown as a spinner and weaver, but my greatest gain has been in the friends I have made. Thank you all again, and again.
The A,B,C 's of Buying Fleeces & Wool
There are many good books around that can do this better than I can but this crash course will tell you what to look for. I will start with TURNING WOOL INTO A COTTAGE INDUSTRY by PAULA SIMMONS. She can get a seller and a buyer into the process.
Know the breeds of sheep and the type of fiber they produce. This will narrow your shopping to a specific area. It will also give you a chance to comparison shop as to quality and price. Talking with others is one of your best sources.
Cleanliness is the first thing to look for. Covered sheep are a plus but also an added expense you pay for. The amount of time you want to spend getting vegetable out of a fleece is up to you. Believe me less is better unless it's the most beautiful fleece you just have to have. Skirting is a big area to lessen vegetable matter. In skirting the outer edges are removed from a little to a lot. The leg wool, the belly, the face and neck and the britch wool (to you new fleece buyers it's the butt end) are removed. If you are paying by the pound you are wasting your money for stuff you can't use. Speaking for myself, the skirted wool was given to the buyer but separate from what you pay for. Sometimes you under estimate your fiber and an extra hand full does come in handy. This should be washed separately because of the extra dirt. I'll mention second cuts here. When the shearer clips the wool and leaves some wool attached and goes back and clips this (makes the sheep and job look better) and mixes this in with the fleece you have shorter pieces. Before doing anything else a good shaking will get rid of a lot or pick it out by hand. Ugh. More work.
A brief note on color. If the sheep doesn't come in blue dye it. When choosing a fleece to dye get the whiter white. Most sheep have a creamy white look, which is beautiful by itself. My Romneys did anyhow. Dyes will be bolder and brighter with a white. Shades of gray dye beautiful with a muted softer color. This is where playing and experimenting with dyes is great. Keep notes, when you find the perfect combination you have to remember what you did to get it right again. You can take a small hand full of raw fleece and wash it in your hand with soap and water at the sink and dry it in a towel. This will give you an idea of what will wash out. As a buyer get the fleece you want but don't tear a fleece into pieces. Be respectful. As a seller show the fleece at it's best. It should not be a problem to open a fleece and lay it out.
A fleece fiber also must be strong from end to end. Take about a _ inch or lock of wool and snap it between your fingers. It should stay in one piece. If it doesn't you have a break or weakness in the fiber. Move on.
Take an old timer (experienced, not age) with you if your in doubt when shopping. Go to fairs and sheep and wool shows and look at the different sheep and fiber.
A note on the extent of processing of wool. The least is raw off the sheep. You will find washing is the hardest and most important step in preparing the wool. If you don't like washing wool let somebody else do it. Now it's washed and the processing begins. You can get it carded or combed, roving or top, spun or felted, scarf or sweater.
Pricing wool or fleece is really hard to judge. The rarity of the breed, so supply is limited, ups the price. The finer the wool is another, coated sheep, reputation, blue ribbon winners, cleanliness, presentation and on and on.
There are many places around that process wool. Frankenmuth, Blackberry Ridge, and Ohio Valley to name a few. A Google search would yield many more, I'm sure. Your editor, Bonnie
PS: If someone offers you a fleece never say no. You can always throw it out or mulch the fruit trees with it but you may be very surprised. A lot of sheep breeders have no idea what a spinner is looking for.
Classified Section
Hello, my name is Donna Johnson and I have a small herd of alpacas that I need to sell quickly. I am in the middle of a divorce and can no longer keep the animals. I have 7 males--pet quality that are Peruvian and have wonderful fiber. They are all healthy. I am selling them for $500 each. If you know of anyone that might be interested, please have them contact me at northerncros@pennswoods.net. I live in Bedford, PA.
Remember When and Who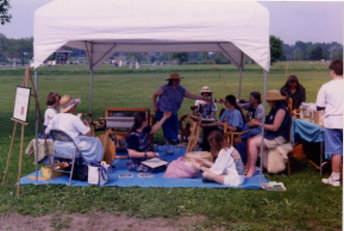 At Edinboro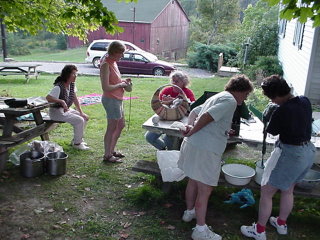 At Two Mile Run
Final Note
' Tis the time of year to remind everyone dues are due. As per our new by-laws the yearly dues are $15.00. Paid by March. Please make your checks payable to the NWPSWG and send to the Membership Coordinator. Thank you.
From all of us to all of you our warmest wishes for a safe and happy holiday season. Merry Christmas, Happy Chanukah, and a Healthy, Prosperous New Years. See you at the Christmas Party.