| | |
| --- | --- |
| "The HUB" | Vol. XXVII, No.5 |
| Bimonthly newsletter of | September - October 2006 |
THE NORTHWEST PENNSYLVANIA SPINNERS AND WEAVERS GUILD
Friday, October 6, 2006, from 7:00 p.m. to 9 p.m.
St. James Episcopal Church, 112 East Main Street, Titusville, PA
September Program
We will be doing the felted rug/wall hanging and rainbow dyeing. Bring a chair, Coleman stove if you have one and some dye pots. Lunch and drinks will be provided. You will be in the woods at the Crytzer farm and dyeing so dress accordingly.
October Program
The October program will be included as part of the "Fantasy in Felt" workshop. See enclosed flier for information.
Calendar of Events
September 2nd - NPSWG Program Meeting at Bonnie Crytzer's House 10:00a.m.to 2:00p.m.
September 19th - NPSWG Tuesday Spinning at Christ Church 10:00a.m.to-2:00p.m.
September 23rd - Sheep and Wool Family Field Day 10:00a.m. to 3:00p.m. at the Waterford Fair Grounds
October 6th -NPSWG Business/Artist Showcase Meeting at Saint James Episcopal Church 7:00p.m. to 9:00p.m.
October 7th 8th & 9th -NPSWG Presents "Fantasy in Felt" Workshop at Saint James Episcopal Church
October 17th -NPSWG Tuesday Spinning at Christ Church 10:00a.m.to-2:00p.m.
October 21st - 22nd - NY Sheep and Wool Festival, Rheinbeck, NY
From Donna Wellman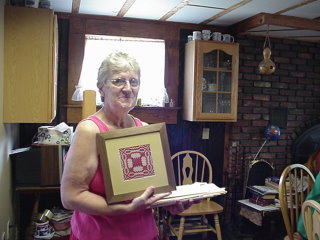 What a wonderful surprise happened to me last week. Bonnie Crytzer had called and said that she and Jim would be over on Thursday, so I said that I would fix lunch. Around noon the Crytzers came bringing Ilene with them. I was so glad to see all of them as it gets lonely out here in the sticks. We didn't even get set down to chat when the gang all rolled in. Sharon Reiland, Roz Macken, Joanna McDermott, Judy and Risa just happened to drop by and along came Jill Rouke. What a wonderful surprise. We were all having a wonderful chat and everything got quiet. They had come to present me with the most wonderful award. The first Lifetime Achievement Award. I received a wonderful guild logo, woven by Ilene, and matted by Elaine and a beautiful walnut frame made by Jim, along with a certificate. I was overwhelmed with joy. The guild has given so much to me. The pleasure of being with everyone has brought me through all the trials life has brought me. I don't think that I would have made it this far without the wonderful support everyone has given me. I hope that the guild continues long into the future and will be there to support everyone. Thank you for all that you have given to me. I could not live without the friendship I have come to know and love from the guild members. Thank you again
Donna Wellman
Minutes of the August 5, 2006 NPSWG Meeting
The meeting was hosted by Sue Spencer at her home in the woods and chaired by incoming President Joanna McDermot. The minutes of the June meeting were approved as written.
Treasurer's Report: Checking balance $ 534.63
Savings balance $2554.18
Total funds on hand $3088.81
Bonnie Crytzer announced several upcoming events. The "Heart of the Alleghenies" (HOTA) Folk Music Festival will be held on August 11-13 in Bradford. The Fall Fiber Festival in Montpelier, VA is scheduled for October 7-8 (it was noted that this conflicts with our upcoming felting workshop). The Algonquin Mill Folk Festival in Carroll County, Ohio, will be held on October 13. Bonnie also noted that the guild has received a solicitation for Knit Simple magazine; no interest was expressed in pursuing this. She added that Dorothy Kloss is selling all of her fiber equipment.
Elaine Fertig announced two upcoming events. We will be demonstrating at the Baldwin-Reynolds house on August 13 from 11 a.m. – 4 p.m. Some antique spinning equipment has been brought out of storage and we will be able to spin on it. Some wool will also be provided for spinning. On Friday, August 25, at 1:30 p.m., we will be spinning at the Crawford County Fair. This year, we are located in the building where needlework is displayed, and we are listed in the fair book program. Elaine also asked for help with judging the Spinners' Choice Fleece Award. Elaine, Roz Macken. Vicki Ferster, and Chris McCormick will meet at 6 p.m. on August 23 to judge the fleeces; Bonnie will give the $10 prize to Elaine to award.
The August 15 Tuesday Spinning, previously announced as cancelled, will be held as usual.
The question of MAFA membership was again raised. Joyce Rose noted that the MAFA conference was not held this year. The Guild voted to approve the $50 MAFA membership dues for one more year to give the organization a chance to pull itself back together. Winnie LeBreque of the Butler Guild is organizing people who want to help.
Sue Spencer discussed the Sheep and Wool Family Field Day to be held in Waterford on September 23. Sue is charge of organizing vendors – contact her if you want to sell items at the event. There is no set vendor's fee; instead, vendors are asked to donate something for the auction or otherwise contribute as they feel appropriate. Elaine Burkholder (814-333-4386, burkholder@alltel.net) is the general organizer – contact her if you want to demonstrate felting, dyeing, etc. Other events during the day will be music, talks for 4-H'ers, a sheep-shearing demonstration, a cooking demonstration, a photo contest, a raffle and/or Chinese auction, and a People's Choice Award (bring items to enter).
Bob Stine announced that he had free trash bags for all. Elaine Fertig offered free foam beads (useful as knitting needle point protectors). Sharon Reiland announced that she had fliers available for a "countryside tour" that includes her shop.
We discussed the Saturday meetings in "off-months." We decided not to have a meeting in September because it would fall on Labor Day weekend. We realized that we need someone to organize the off-Saturday programs if they are to continue. Sue Spencer is willing to do this if someone else will do it with her. We will discuss this at the October business meeting and see if someone is willing to step forward as co-organizer; please think about this before the meeting. (Note that the October meeting will be held on the evening of Friday, October 6, in conjunction with the felting workshop.)
We discussed plans for the December meeting. New Program Co-chair Vicki Ferster will organize the holiday party, and Sue Spencer will do a program on the workshop she attended on a Guild scholarship.
Joyce Rose discussed plans for the October workshop on Sculptural Felt with Deborah Pope. The workshop is supported in part by a Pennsylvania Partners in the Arts grant that Joyce successfully applied for. Sue Spencer volunteered to host Deborah in her home during her visit. People are also needed to escort Deborah to lunch and dinner each day to make sure she gets fed! (The Guild will reimburse Deborah's meal costs to the hostesses.) On Friday, October 6, Deborah will give a public talk and demonstration immediately following the business meeting. On Saturday, October 7, she will teach how to make "Celestial Orbs"; there is a limit of 18 people for this class, and the cost is $25 plus a $20 materials fee. Sunday's class is on creating a "Dream Fish"; the size limit is 18, and the cost is $25 plus $25 for materials. On Monday, she will teach making an "Origami Felted Purse"; size limit 20, cost $25, materials fee $25. The three one-day workshops are independent and people can sign up for whichever one(s) they want.
Joanna explained that the Board had consulted the byelaws and found that the Board can grant awards in addition to the usual annual service award. The Board had discussed this before the meeting and felt they would like to give Donna Wellman a Lifetime Achievement Award for her years of service and her many contributions to the life of the Guild. The Board asked for the support and approval of the membership in doing this; the idea was approved by unanimous acclamation. Bonnie agreed to give Donna the framed award, with the plaque to be added as soon as it is available from the engraver.
Bonnie mentioned the possibility that the Guild might lose Christ Church as a meeting place in the future and suggested that we should begin researching other options now. We have been paying the church $175 a year for two meetings per month, and they have also been storing our library. It is unlikely that we will get such a favorable arrangement anywhere else; most places will charge more, and library storage is a difficult issue. A general discussion of Guild finances ensued. It turns out that, even with the low rent we have been paying, the Guild has been running in the red for the past few years. After much discussion, it was moved and approved that the Executive Board will review the budget for the past few years and meet to assess our financial situation, then report to the Guild and suggest possible actions. Consulting the byelaws revealed that the Executive Board consists of the President, Vice-President, Treasurer, and Secretary, plus any chairs of standing committees. (The only standing committee at the moment is the Helen McCartney Scholarship Committee.) The current Executive Board thus includes Joanna McDermot, Vicki Ferster, Anita Hotchkiss, Bonnie Crytzer, Ilene Elliston, Ann Sheffield, and Barb Lodge. Jim Crytzer will get copies of the budget to the Board, and Joanna will organize a meeting.
Show &Tell: Sharon Reiland had needle-felted a dragon (just adorable) and also a Santa banner. Joyce Rose had photos of a shawl she had made by wet-felting onto cotton gauze. Ruth Walker-Daniels showed her sample from the chenille workshop – she plans to make a car booster seat from it. Sue Spencer explained that she had taught a class on dyeing at Kindred Spirits Yarn Studio in Franklin and that samples from the class were drying on the trees around us.
And so to a sumptuous picnic lunch, an exciting Chinese auction, and a good time had by all…
Respectfully submitted,
Ann Sheffield, Secretary
Classified Section
Pittsburgh, Pa LeClerc Colonial Loom 45" FOR SALE. 4 shaft, 6 treadles (Can be expanded to an 8 or 12) Excellent Condition Comes with 3 steel reeds (6, 10, 12); extra wire-heddles, 2 lease sticks, bench, aprons, cords, etc. Very easy to use, sturdy and stable. "it the most versatile loom ever produced. Its great adaptability allows it to be used as a general purpose loom, or for any specific purpose required by an inventive and creative weaver. Made of the finest Canadian maple, it is finished with clear lacquer and varnish so that the beauty of the natural grain and color of the lumber remains visible." Current price new is around $4700 (without bench and extras). I have 2 looms and am downsizing. My price is negotiable. Buyer pickup preferred.
Contact Sue at sjunk@zoominternet.net
From: kconline@comcast.net
Hi, I have the fiber from one Alpaca that needs to be hand spun. Is there anyone in your society that would be able to do that for me? Thanks, Karen, Pittsburgh, PA
From: "Terry Tomko" <tomko_terry@wardlawclaims.com>
Hello. I have a coverlet dated 1843 and signed by M. Kostner. It is salmon, navy, and tan. It has bulls on the edges. There is an article about similar coverlet in May25, 2005 issue of Antique Trader. I am interested in selling it if anyone is interested in seeing it. Email: ngailgarrett@yahoo.com Thank You, G. Garrett
Harrisville 4 harness 36"with 4 treadles. Bench, shuttles and carpet warp included. Asking $300.00 Debi Berry @ debi@spinsagoodyarn.com
4 Harness Baby Wolf 23" weave with 3 reeds, rattle and boat shuttle. Asking $450.00. Judi VanGuilder at jpvango@yahoo.com
Welcome Aboard
We have three new members:
Kathleen Arkwright, Erie, PA
Karen Koper, Lake City, PA
Amy Albrecht, Waterford, PA, albrecht321@peoplepc.net
Please add these members to your directory and make them welcome.
Also below is a directory update.
Jill Rouke, rouweiss@adelphia.net
Please see the online members directory for full contact information.
Presentation of guild award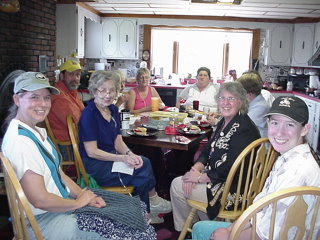 On Thursday August 10th President Joanna and several guild members arrived at Donna Wellman's home to present her the guilds first "Lifetime Achievement Award". Donna was surprised by the group arrival, but as always being the gracious host made lunch for all. Her fresh baked homemade hoagie rolls were delicious.