| | |
| --- | --- |
| "The HUB" | Vol. XXVIII, No.5 |
| Bimonthly newsletter of | September - October 2007 |
THE NORTHWEST PENNSYLVANIA SPINNERS AND WEAVERS GUILD
Saturday, October 6, 2007, from 10:00 a.m. to 2 p.m.
Christ Episcopal Church, Diamond Park, Meadville, PA
September Program
Day one of the "Challenge"
Dye day at Bonnie C's
Time 10:00 to 2:00
Bring a lunch please include a cold drink. We will plan to have three different dye pots:
Indigo -bring your wool .
Natural dye-bring your wool
dying our fleece for challenge.
This dye is only for the fleece challenge unless you can't work with roving you need to bring your own wool yarn and we will dye need to label so you get it back to you.
Vicki Ferster and Sharon Hoban will Host
October Program
Day two of the "Challenge"
Go over this schedule
make decisions as a group color and size of the felted bag.
if you have patterns or suggestions on felted bags please share. A felting demo how to check your gage(sp?)
Linda Durny and Barb Lodge will Host
Calendar of Events
September 1st - NPSWG Program Meeting at Bonnie C's 10:00a.m.to-2:00p.m.
September 18th - NPSWG Tuesday Spinning at Christ Church 10:00a.m.to 2:00p.m.
September 22nd - Sheep and Wool Family Field Day at Waterford Fairgrounds 10:00a.m. to 3:00p.m. (Guild Demo)
October 6th - NPSWG Business/Program Meeting at Christ Church 10:00a.m.to-2:00p.m
October 16th - NPSWG Tuesday Spinning at Christ Church 10:00a.m.to 2:00p.m.
Minutes of the August 2007 NPSWG Meeting
We met at Sue Spencer's home for our annual picnic in the woods. President Joanna McDermot called the business meeting to order and began with the sad announcement that long-time member and friend Donna Wellman had died the previous a week. A Celebration of Donna's life was to be held at her home that afternoon. We then had a minute of silent remembrance for Donna.
Ann Sheffield, Secretary, thanked Roz for taking the June minutes, which were approved without changes. Bonnie Crytzer, Treasurer, reported that the Guild currently has 4,055.45 (=$1,498.90 Helen McCartney Scholarship Fund + $2,556.55 operating funds). Sue explained that the class she took on a scholarship from the Helen McCartney fund was not appropriate for a Guild presentation. Instead, her August program on encaustic counts as her program contribution, and $25 will be restored to the scholarship fund from the operating budget.
Old Business. Joanna asked for reports on recent demonstrations and classes. Bonnie reported that the weather for the Edinboro Highland Games had been beautiful. Sales were good (>$300, of which the Guild gets 10%), and a lot of people expressed interest. Spinning the weft for the shawl in advance meant that the spinners could relax and have fun. At the Waterford Heritage Days, we sold a grand total of four felt balls (made by Roz), but Roz did spend a lot of time helping a man who arrived with his wheel. Karen Fry also finished the Edinboro shawl during the Waterford event (a problem with the loom caused a lot of warp breakage for a while, so the weaving took longer than usual).
Sue Spencer talked about the exhibit at Butler. What was communicated to us by the organizers continued to shift right up to the opening itself, which caused some confusion and frustration, but they did give us a nice thank-you in the program, and people were interested in our demonstrations at the opening. Unfortunately, no one from the Guild entered items in the show. A 50/50 raffle at the reception was won by Bonnie (of course). Sue also noted that Kindred Spirits Yarn Studio in Franklin (which she now co-owns) stocks a lot of fiber and spinning supplies now, and Sue has been handing out Guild brochures "left and right."
Elaine Fertig announced upcoming demonstrations. Rural Heritage Days at the Baldwin-Reynolds House is August 11 from 12-5 p.m.; we will be demonstrating on the lawn. We are also scheduled to demonstrate at the Home Ec. Building at the Crawford County Fair on August 22 – Elaine plans to be there from 10 a.m. onward, but the fair book has us scheduled specifically for 1:30 p.m. Go in through Gate 6 and tell them you are demonstrating to have the entry fee waived. We discussed whether we should go ahead and do the fleece judging while people are there to demonstrate – the presentation of the award is scheduled for 7 p.m., but we could do the judging earlier. Sue said she would talk to Roz (who is scheduled for the evening) and work out the final plan. Elaine noted that the Fair has a "handspun items" category for the first time (something Donna had campaigned for) – please enter things so the category will continue in future.
Sue announced that Family Field Day in Waterford is September 22. There will be a Guild sale table. Karen can be there for part of the day to demonstrate weaving, Sue will do Kool-Aide dyeing, and Elaine and Bonnie will spin (more demonstrators would be welcome!).
New Business. Karen noted that someone from Albion had asked for demonstrators at the Albion Fair on September 21.
Joanna announced that the Butler Guild is celebrating their anniversary at Penn's Colony on September 29 and are hosting a fleece-to-shawl competition; the entry deadline is August 31. She also noted that Donna had been our sheep-to-shawl coordinator. Karen Fry nobly volunteered to take on the job. Given that many events are effectively coordinated by individuals at this point, we clarified that Sue Spencer's position of "Public Relations/Events" is concerned primarily with publicizing (rather than with organizing) events.
Vice President Vicki Ferster summarized the discussions that she has been having with Co-VP Anita Hotchkiss about the Guild programs for the next year. They are planning a challenge project that would involve making a bag (by knitting, weaving, crochet, etc.), fulling it, and embellishing it. They hope that everyone in the Guild will participate! Spinners can spin the yarn for their projects; non-spinners will be provided with yarn. The September meeting we decided to hold as usual on September 1 despite the Labor Day holiday, will be a planning meeting for the project. The September meeting will also be a Dye Day at Bonnie C's house to dye yarn/fiber for the project. Each program in the following months will be focused on a skill or technique that can be used in making the bags.
Jim Crytzer appealed to everyone who submits material for the Hub to please put it into an electronic format so he can cut-and-paste it when editing.
Mabel Cable showed us a gorgeous cabled shawl that she had hand-knit from her handspun silk/merino yarn – she plans to enter it in the Crawford County Fair.
In our closing action of the meeting, we voted unanimously to donate $100 to the American Cancer Society in Donna Wellman's memory.
We then adjourned for Sue's program on rust and wax, a bounteous lunch, and the Chinese auction.
Respectfully submitted,
Ann Sheffield, Secretary
Donna Wellman
We Remember Donna - With Love and Gratitude
Our friend Donna has gone on to her next, great adventure. But she has left us such a store of memories, and she has touched all our lives so deeply, that we look back now to count up all the things she was that made us love her, and all the things she did for which we owe her our thanks.
We love Donna, and we thank her, for her lively spirit. She was interested in just about any and every new idea which came to her notice, whether about spinning or dyeing or knitting or anything having to do with fiber and fiber people.
We love Donna, and we thank her, for her life as a teacher. She was ready and eager to pass on to all of us the knowledge and skills she developed from her own eagerness to learn.
We love Donna, and we thank her, for her years of work and loyalty to us as a Guild of Spinners and Weavers. Not only did she teach us, but she served the Guild as President and major support person all the years of our friendship together.
We love Donna, and we thank her, for her gift for hospitality. We remember all the many times we gathered at her home, to learn, to experiment with dyes, to spin and to knit, and to be fed on her wonderful home-made bread.
And most of all, we love Donna, and we thank her, for teaching us how to live with grace and courage; for teaching us to use well every minute we have been given, and to live life to the fullest.
Donna, go in peace with our love,
The N.W. Pennsylvania Spinners and Weavers.
Classified Section
Subject: Sigrid Piroch's Exhibit and Reception
EXHIBIT --> "THE CUTTING EDGE: SOLO EXHIBIT OF INNOVATIVE JACQUARD WORKS AND RETROSPECTIVE by SIGRID PIROCH, Textile Artist.".
PLACE: Patternson Hall Art Gallery, Westminster College, New Wilmington, PA.
EXHIBIT DATES: August 17 through September 28, 2007
RECEPTION, WALK-THRU, DEMO, TALK: Thursday September 13th from 6 to 7 pm
DIRECTIONS: See http://www.westminster.edu/about/directions.cfm
Click on "general map" and also click on "printable campus map"
http://www.westminster.edu/admissions/map/campus_map.pdf
Park anywhere.
Please join Sigrid Piroch for the Opening Reception on Thursday, September 13th from 6 to 7 pm for a reception, refreshments, walk-through of the exhibit, weaving demonstration and short gallery talk. This exhibit goes up this week on Thursday, August 16th, and will come down on Saturday, September 29th.
Thank you! Sigrid at ARTS
Subject: loom for sale
24 harness Louet Magic Dobby 28in. weaving area, table or floor loom, with users manual. two back beams, 42 bars on loom, 37 extra bars, lots of pegs & heddles. $2000.00
Faye A.Youse
Southeast PA near Reading
fayannyouse@aol.com
For sale:
One gray Romney fleece, unprocessed. $25.00
Contact Bonnie Orr at 814-825-5863
KNIT HAPPENS
www.knithappens.com
Knit Happens is the official home of Stitch 'n Bitch and lemme tell ya, we got it all. There's a ton of info about the Stitch 'n Bitch books and Knitter's Design Journal, some sweet (and free!) downloadable patterns, news and updates on SnB events, and a way to sign up for "Bitchlist" e-mail updates. But wait! Please don't skip Stitch 'n Bitch Town until you've visited "Virtual Stitch 'n Bitch," our forum, where knitters and crocheters let it all hang out. With every kind of knitting chat you could possibly dream of (share tips, designs, show off finished projects, discuss knitting books and magazines, or find or start SnBs anywhere in the galaxy), you can almost hear the virtual chatter. If you're a real lover of the craft, registering here will feel like comin' home. Welcome!
THE YARN DIRECTORY
www.yarndex.com
Yarndex, The Yarn Directory, is pure yarn-o-mania, a total encyclopedia of fibers, and one of the sweetest Web resources out there. From texture to gauge to weight to yardage—and with full shade cards, in most cases—this site offers the knitty gritty on most every yarn out there. You can search by any category and find fabulously creative descriptions of yarn (like Crystal Palace's "Splash," described as feeling like "feathery eyelashes")! Yarndex.com is the giant fantasy yarn emporium that stocks every brand in every color that we all dream about, but in cyberform.
Threads Exhibit
The Threads exhibit at The Butler Arts Center went well -- although it is an unairconditioned building and it was a very hot night! Bonnie and Jim, Barb and Art, Sue, Billie, Anita and Bonnie Orr all did demonstration of one thing or another and people were quite interest in our activities. The exhibition was very interesting with a wide variety of items and the visitors to the show were as varied. Young and older, dressed down and dress up -- it was fun! The food was great, too.
Thank you to everyone who participated.
Sue Spencer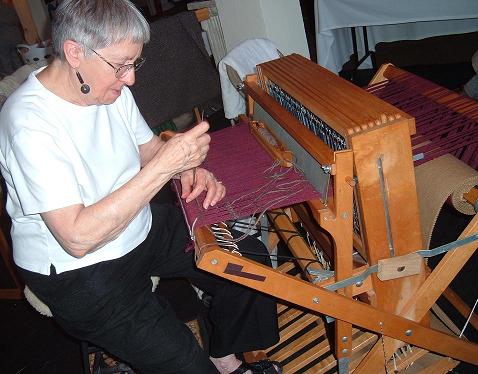 Barb Lodge weaving at the Butler Arts Center.
Welcome aboard Two New Members
Andrea Wyman
Lynn Myers
Please see the online directory (members only) for contact information. Add them to your Guild Directory and bid them welcome.