| | |
| --- | --- |
| "The HUB" | Vol. XXIX, No.5 |
| Bimonthly newsletter of | September - October 2008 |
THE NORTHWEST PENNSYLVANIA SPINNERS AND WEAVERS GUILD
Saturday, October 4, 2008, from 10:00 a.m. to 2 p.m.

September Program
Billie Bookamer will instruct us in spinning alpaca. There is a $5.00 fee for material. Bring your wheel.
October Program
Time is up. The 2007 guild challenge is up for judging. Please bring your purses for all to see. Karen will do the way and means of evaluating your efforts.
Dye Day 2008: October 11 at the Crytzers'
We will be working with indigo, one of the oldest and most important dyes in the world. Indigo is the only reliable source of blue dye in nature. Various plant species across the globe can be used (e.g. woad, dyer's knotweed, and the indigo plant of India), but they all contain the same dye. Dyeing with indigo requires care and attention, but the reward at the end, when your fiber magically turns blue before your eyes, is worth all the trouble!
We will be able to dye at least four ounces of yarn, fiber, or fabric per person. Unlike most dyes, indigo works with any natural fiber – you can bring anything from wool to cotton. You could even try tie-dyeing a T-shirt! However, I don't recommend using silk – it will take the dye, but the relatively high pH of the dyebath is harmful to the fiber. "Recycled" fibers like Ingeo or SoySilk are OK, as are most synthetics. Note that, because indigo dyes pretty much anything, you'll want to wear clothes that you don't mind getting blue!
Once everyone has had a chance to dye her four ounces of fiber, people can continue to dye until the vats (or the people) are exhausted. In addition to your fiber, please bring the following supplies, if you have them:
enamel dyepots
thermometers (used for dyeing only)
large, clear glass jars (will not be usable for food afterwards)
long wooden spoons or sticks (for dyeing only)
camp stoves and fuel • hot pads/mitts (these may end up blue…)
clothesline or rack (these will get blue too…)
rubber gloves (if you don't want blue on you!)
Calendar of Events
September 6th - NPSWG Program Meeting at Christ Church 10:00a.m.to-2:00p.m.
September 16th - NPSWG Tuesday Spinning at Christ Church 10:00a.m.to 2:00p.m.
October 4th - NPSWG Business/Program Meeting at Christ Church 10:00a.m.to-2:00p.m
October 11 - Dye Day at the Crytzers' 10:00a.m. to 2:00p.m
October 21st - NPSWG Tuesday Spinning at Christ Church 10:00a.m.to 2:00p.m.
Minutes of the August 2008 NPSWG Meeting
Karen Fry called the meeting to order and announced the other new officers: Program Chair Bonnie Crytzer and Treasurer Bonnie Orr. Ann Sheffield is continuing as Secretary. The first topic of discussion was our meeting place: Christ Church is asking $500 for 2009, almost double the $275 we paid this year. Several possible meeting places were suggested, but most had some kind of disadvantage (no space for our library, difficult access for people with limited mobility, too far from our central area, etc.). Sue Spencer agreed to approach Christ Church to explain our status an educational non-profit organization and to offer them $275 for the coming year. Members need to investigate the most promising alternatives and seek other options as a back-up plan in case Christ Church rejects our offer.
Bonnie Orr explained that her computer was down and so she could only give us an abbreviated version of the Treasurer's Report: the total balance had decreased by $124.40 compared to the previous month. She asked if there should be a limit on how much money we keep in the checking account (the savings account has a better interest rate. Jim Crytzer noted that how to manage the funds is up to the Treasurer. Bonnie O. also noted that the computer issue means that John won't be able to do the Hub; Jim nobly volunteered to do one more issue. The minutes of the June meeting were approved. Barb Lodge noted that there are membership cards for this year.
Sue Spencer talked about the Family Field Day in Waterford on Sept. 27. We will demonstrate spinning and weaving and will have a guild sale table; other vending at the event is free, also. Sue is scheduling 20-minute mini-demonstrations throughout the day – for example, Taryn Barnett will demonstrate needle-felting, and Billie Bookamer will demonstrate crochet. Sue needs volunteers to do more of these short demonstrations. We discussed our donation to the sponsoring Wool Growers Association and agreed that our donation has traditionally been the $25 sponsorship of the People's Choice prize.
Bonnie Crytzer announced that the annual Dye Day will be October 11 at her house. Ann will be helping us dye with indigo. Barb passed along several announcements of upcoming events provided by Elaine Fertig: Saturday, August 9 (11 a.m.–5 p.m.), we will be demonstrating at the Baldwin-Reynolds House in Meadville for their Rural Heritage Days. The House currently features an exhibit of historic quilts. On August 16–17, we are demonstrating at the Civil War reenactment in McKean. You can set up on Friday evening (6–9 p.m.) and attend a pig roast or arrive before 9 a.m. on Saturday (or Sunday). The event is signposted with boards showing Union and Confederate flags. We have been asked to wear denim skirts and white shirts to fit in with the historic theme and to avoid anything obviously modern. We will be sharing a large tent on-site and will have a great view of the battlefield! On Wednesday, August 19, we are demonstrating at the Crawford County Fair in the Home Economics Building from 10 a.m.–2:30 p.m.. Enter through Gate 6 and explain that you are demonstrating to be admitted free. We will judge the fleeces that same day. Members are also encouraged to enter their creations in the Fair!
Karen Fry said that the Go Erie Days event went well and they would like us to come back next year. Bonnie C. announced that she has information on several events. The Mountain Fiber Festival will be held Sept. 6-7 in Harford, PA (near Binghamton, NY; see www.pafiberfestival.com). Sept. 19-20 is the annual "Knitters Day Out" in Harrisburg; the featured instructors are Kathryn Alexander, Margaret Fisher, and Charleen Schurch (www.knittersdayout.org). A " Knitters Getaway Weekend" on October 3-5 will be hosted by the Inn at Starlight Lake in Starlight, PA (www.knitinnretreats.com). The New York Sheep & Wool Festival in Rhinebeck, NY, will be on Oct. 18-19 (www.sheepandwool.com). Bonnie also passed on a message from Judy Hanninen about the upcoming buy/sell/swap event at the next meeting of the Mercer Guild.
We discussed how to honor the memory of Ilene Elliston. Ilene was a founding member of our Guild and a good friend to us all through the years. We voted to donate $100 to the Friends of the Oil City Library, the charity her family requested. Ilene also left her stash to the Guild. Bonnie Crytzer will inventory it and offer the family anything they would like from it before we decide what to do.
Because of Ilene's death, the Bag Challenge show-and-tell has been postponed until at least September. The September meeting is an "off-month" and also falls on Labor Day Weekend, so it was suggested that the Bag Challenge be put off until the October meeting. However, Vicki Ferster was not present and so no final decision could be made.
Show and Tell.
Ruth Walker-Daniels recommended the book Stitch 'n Bitch Nation – despite its vulgar title and threats of funkiness, it contains lots of good information and some nice patterns.
Pictures of the guild at the Civil War Reenactment near McKean.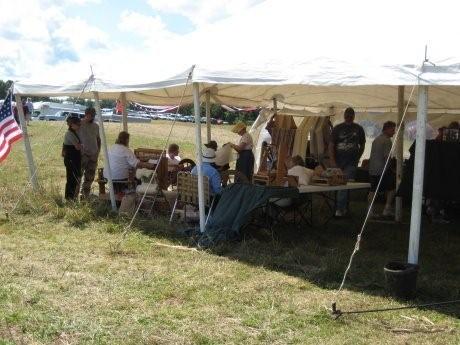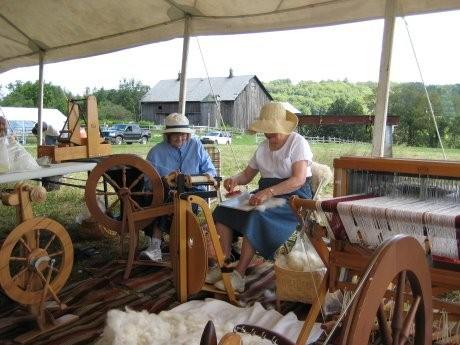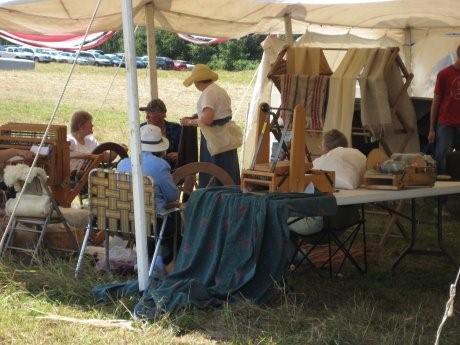 President's column


Hi, Those of us who were present at the Baldwin Reynold's House on August 9 discussed when the best time to reschedule the purse challenge would be. It was first discussed at the August meeting. The consensus is that we should do it at the October meeting, as it was noted that the September meeting is on Labor Day weekend and people may be travelling or have company. This is a break for those of us who have not yet completed our challenge item, so get busy girls!

We are looking for a new editor for the HUB. The Orr's computer has died and they are unable to replace it at this time. Jim Crytzer has kindly offered to publish this edition, but we really need someone to step up to the plate and take it over.

Karen Fry


Classified Section

The NYS Sheep and Wool Festival ( aka the Rhinebeck Show ) Workshop schedule has undergone a complete re-do this year. There is a new committee in place to oversee the schedule. We have over 20 instructors and 50 plus class offerings. Beginners to advanced fiber folks will be able to choose from a large selection of classes. Classes are Thursday October 16 through Sunday October 19 and will be held on site. Two day festival admission is included in class fee..


Check out our website at: http://www.sheepandwool.com/workshops.cfm

Sara Healy
NYS Sheep and Wool Festival Workshop Committee

Loom and Great Wheel for Sale

Bonnie, Well here is the info on the loom and great wheel.
The loom is a 42" Lillstina 4 harness in good condition. There are some shuttles and bobbins with it. The great wheel is in real good condition and I don't know what else to say about it - it's a great wheel. I'd like to sell them together for $650.00. Thanks! Ellen gracie6@zoominternet.net
Home | About NPSWG | News | Members Area
Contact Us | Search NPSWG